Thinking of Buying Land? These Are the Best States for Farming in 2019
With varying land quality, tax breaks, and land prices, not all states are created equal when it comes to farming. Check out the best states for farming in 2019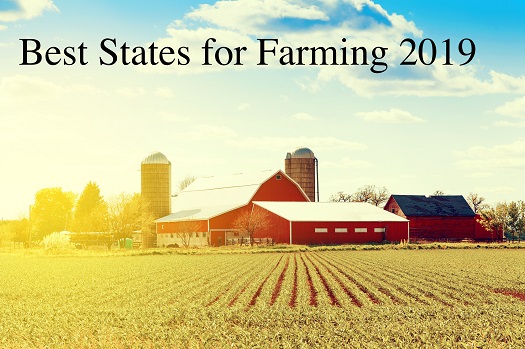 Are you ready to pack it all up and head out west to start a farm? You may not have to. Move all the way out west, that is.
Farming is thriving across many states in the U.S.. And, if you're interested in putting your name in the hat in the game of agriculture, there is a perfect location just waiting for you to find it. That's why we've outlined this list of the best states for farming in 2019.
We based the criteria on a number of factors. Of course, the expected income is important. But, this number also depends on where you live, according to the cost of living. 
So, without further adieu, let's take a look at the states where you'll find the most success with farming this year.
Top 10 Best States for Farming in 2019
Whether you've already been doing this for a while, or you're ready to take a shot at living a more sustainable lifestyle, you should know that farming is no walk in the park. Before you can purchase land, you need to find it. And, you'll need enough startup capital to get it off the ground and running.
These states have ample access to land for farming purposes. They also offer plenty of services like training and apprenticeships for novice farmers still getting their feet wet. Not to mention, startup costs are easier to manage where agriculture is advancing because demand for products is high. 
California
Even while the starting income and base income for farming in California is low, it's still considered one of the best farming states to live. California has a temperate climate which is not only good for crops but also makes for comfortable living. Not to mention that California produces the most food in the United States.
Get in on that for an annual salary of just over $21,000. 
Indiana
If you've ever driven across the midwestern states, you've likely seen rows and rows of corn. This is what Indiana is most well known for, alongside soybeans. But you can start a vegetable crop in Indiana, too. 
Novice farmers will start out making around $16,000 per year. The average salary for experienced farmers in Indiana is about $38,000. 
Iowa
Iowa made our list of the top ten farming states because it is second only to California in food production. That means, there are a lot of farms and plenty of room for more.
While the average entry-level salary is only around $19,000 annually, experienced farmers in Iowa bring home a comfortable $42,740 per year on average. 
Kentucky
Kentucky boasts some of the best farmland in America for more than just tobacco. Many farmers grow soybeans and barley as well as corn for grain and wheat. Tomatoes also grow well in Kentucky. 
The average annual salary for farmers in Kentucky is just under $28,000. You'll cap out around $42,000 as an experienced farmer. 
Michigan
Even though it gets cold in Michigan, there are actually four beautiful seasons perfect for farming everything from soybeans, sugar beets, and wheat, to hay and Christmas trees. 
You'll start out making around $18,000 per year but once you get some experience, you can expect to average about $40,000 annually.
Nebraska
Nebraska has been named time and again as the best state to start a farm based on how common farming is here and the average annual salary. You can expect to make just under $20,000 if you're just starting out here. But, the average annual salary for an experienced farmer is almost $54,000. 
New York
You'll find acreage in New York for around $2,600 per acre. This bodes well for an annual salary of just over $26,000 for experienced farmers. Novice farmers can expect to start around $18,000.
Live in the city and still want to try your hand at farming? The Big Apple is also home to more than 700 urban farms that produce foods across the five boroughs. If you'd rather stretch your legs in the wide open country, there are over 7 million acres available for the taking. 
New Mexico
Nobody ever said farming would make you rich. But New Mexico is a good place to start a farm if you don't want to spend a lot up front. You'll find land for just $550 per acre which is the least expensive farmland in America.
It's important to keep in mind that farming in New Mexico is a bit more challenging than in other states. This is due to the drought conditions of the desert that make it difficult to grow vegetables. You may want to find a niche before you up and move.
You can expect to make an average wage of just over $20,000 per year as a farmer in New Mexico.
Texas
Texas is often thought of as a home for ranchers. But there are plenty of properties available to start a small to large farm as well. In fact, there are almost 6,000 farmers in Texas already. 
The average annual wage starts low at around $16,000 and tops off just below $20,000. This is actually a comfortable wage for rural areas in this state. 
Vermont
Vermont has more farmers per capita than any other state in the nation. With a population of almost 630,000 and almost 250 farmers' markets, it's also no wonder that this state has the highest percentage of people that buy food locally and locally grown. That means there is a high demand for farmers.
You can expect to spend just below the national average of $2900 per acre. The average salary for a farmer in Vermont is $27,760.
Final Thoughts
These are the best states for farming in 2019 and moving forward. They are ranked in no particular order. You'll have to make the determination as to which state is best for you based on your individual wants and needs.
Some people base their decision on the average annual salary of farmers in a respective state. Others might weigh in more heavily on the cost of the land itself. Whichever option steers your decision, make sure you have a detailed budget prepared so that you can start off on the right foot.
When you're ready to purchase farmland, don't hesitate to contact us. We are your number one source for farm, ranch, and recreational land in the lower 48 states.